Victory Ranch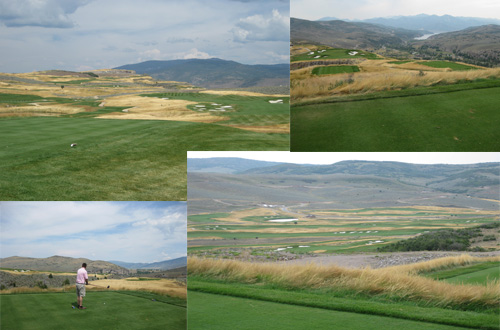 Victory Ranch & Conservancy is a private gated community consisting of 300 residences. Homesites at Victory Ranch range from 1 acre to large back country ranches (yet to be platted and released). Victory Ranch & Conservancy is located on the Upper Provo River just east of the Jordanelle Reservoir about 25 minutes from Park City. The community covers approximately 6700 acres of which 4000 is designated as a wilderness preserve.
The size of Victory Ranch & Conservancy sets this private club home community apart from similar members only developments in the Park City area (Promontory, Tuhaye, Empire Pass, Glenwild, etc.). While very few lots have been sold to date, there are 3 great amenities which are already in place for Victory Ranch owners. The 18 hole Rees Jones designed Championship Golf Course is open, the open space and wilderness are accessible, 5 miles of some of Utah's best trout fishing on the Provo River (as well as stocked fishing ponds on site) and horseback riding await property owners of Victory Ranch & Conservancy. The Freestone Lodge sits riverside near the entrance of Victory Ranch and provides dining (indoor and out), a members' lounge, locker rooms private dining, wine cellar and more.
The Rees Jones designed championship golf course at the Victory Ranch Club opened in August of 2009 making it Park City, Utah's newest golf course. The links style course with wooden trestle style bridges crossing small ravines is truly picturesque. This course will likely soon be rated as one of the tops in the state (if not the top (a ranking currently held by Glenwild)).
From the blue tees, the course measures a bit over 7100 yards, but does not play as long as this measurement. This may be due to the elevation of the course at nearly 7000 feet or its friendly downhill longer holes. The course features bent grass greens, tee boxes and fairways. Landing zones are generous and the greens are receptive and roll true with subtle contours. Beyond the bluegrass rough lies tall fescue; errant shots that find this are usually lost and at best unplayable if found. The fescue and lack of trees on the course add to the Scottish links style feel of the Victory Ranch Club Golf Course.
The course features over 120 tee boxes allowing for very different look at the same hole as well as making the course truly playable for all levels. The course layout with fescue lined out of play areas and well placed bunkers do require straight shots though. Home sites are visible from the course, but they are limited to the perimeter and the "cottages" near the clubhouse.
Planned future amenities at Victory Ranch include a 2013 renovation of the Freestone Lodge, professionally designed mountain biking and hiking trails, 19th hole restaurant and bar for the golf course as well as permanent golf course comfort stations, plus backcountry camping outposts. A skeet shooting and upland bird hunting area is in the works as well as guide services and watersports on the Jordanelle Reservoir.
Golf "Cabins" are set to be announced soon with preliminary plans putting them in the 2500-3400 square foot range and pricing in the low $400 per square foot. The location of the golf cabins provide some of the most striking views available at Victory Ranch.
For more information on home or cottage ownership at the Victory Ranch Club or any other Park City area real estate contact a YouInParkCity.com realty professional.
Victory Ranch Homes, Condos & Land For Sale
5950 E Caddis Circle
$3,600,000
Jordanelle
Victory Ranch
Heber City, UT
Single Family
5510 sq ft
5 Beds / 7.00 Baths
1.40 acres
#11605619
Michelle Eastman - Summit Sotheby's - Park Ave - 4356406597
Days on market - 225
6995 E Rising Star Court
$1,975,000
Jordanelle
Victory Ranch
Heber City, UT
Single Family
3226 sq ft
4 Beds / 4.00 Baths
0.29 acres
#11700297
Daintrie Zega - Summit Sotheby's - Park Ave - 4359010233
Days on market - 136
7567 N Caddis Drive
$1,225,000
Jordanelle
Victory Ranch
Heber City, UT
Land
0.00 Baths
1.54 acres
#11701026
Judy Glauser - BHHS Utah Properties - SV - 4356405800
Days on market - 45
6111 E Green Drake Drive
$1,100,000
Jordanelle
Victory Ranch
Heber City, UT
Land
0.00 Baths
1.30 acres
#11701292
Michelle Eastman - Summit Sotheby's - Park Ave - 4356406597
Days on market - 78
7725 N Caddis Dr.
$869,000
Jordanelle
Victory Ranch
Heber City, UT
Land
0.00 Baths
1.19 acres
#11700703
Ron Whaley - BHHS Utah Properties - SV -
Days on market - 113
6800 E Cliff View Court
$795,000
Jordanelle
Victory Ranch
Heber City, UT
Land
0.00 Baths
2.56 acres
#11701499
Brigid Flint - Summit Sotheby's - Park Ave - 4356409873
Days on market - 64