Victory Ranch Conservancy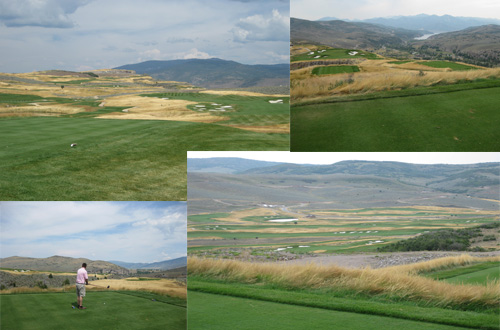 Victory Ranch & Conservancy is a private gated community consisting of 300 residences. Homesites at Victory Ranch range from 1 acre to large back country ranches (yet to be platted and released). Victory Ranch & Conservancy is located on the Upper Provo River just east of the Jordanelle Reservoir about 25 minutes from Park City. The community covers approximately 6700 acres of which 4000 is designated as a wilderness preserve.
The size of Victory Ranch & Conservancy sets this private club home community apart from similar members only developments in the Park City area (Promontory, Tuhaye, Empire Pass, Glenwild, etc.). While very few lots have been sold to date, there are 3 great amenities which are already in place for Victory Ranch owners. The 18 hole Rees Jones designed Championship Golf Course is open, the open space and wilderness are accessible, 5 miles of some of Utah's best trout fishing on the Provo River (as well as stocked fishing ponds on site) and horseback riding await property owners of Victory Ranch & Conservancy. The Freestone Lodge sits riverside near the entrance of Victory Ranch and provides dining (indoor and out), a members' lounge, locker rooms private dining, wine cellar and more.
Planned future amenities at Victory Ranch include a 2013 renovation of the Freestone Lodge, professionally designed mountain biking and hiking trails, 19th hole restaurant and bar for the golf course as well as permanent golf course comfort stations, plus backcountry camping outposts. A skeet shooting and upland bird hunting area is in the works as well as guide services and watersports on the Jordanelle Reservoir.
Golf "Cabins" are set to be announced soon with preliminary plans putting them in the 2500-3400 square foot range and pricing in the low $400 per square foot. The location of the golf cabins provide some of the most striking views available at Victory Ranch.
For Sale in Victory Ranch
did not return any results.
Loading More Results